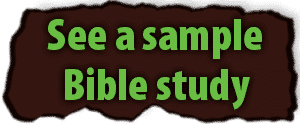 We are an international team of seminary-trained pastors and Bible teachers working with many contributors of varying specialties including educational theory, biblical and church history, technology, and professional media production. Together, we create balanced and well-rounded Bible studies that reach across denominational lines and geographical boundaries.
We create Bible studies in both print and digital formats that are used by churches, Sunday school classes, small groups, and individuals around the world. Our studies will help you to understand the original context and meaning of the Scriptures. We show the timeless truths which still apply to us today and how God has woven the inspired texts together to knit together a grand story of redemption—a beautiful tapestry that ultimately spans all of Scripture.
In Ephesians chapter 5, the apostle Paul states that Christ gave some to be pastors and teachers. The purpose is to prepare God's people to serve and for the church to be built up. In obedience to this Word of God, the team at Sacra Script creates Bible study resources to help the church prepare her people for God's service.
Find Meaning in Scripture
In a world full of bigger, better, newer, and faster, the Bible seems to have become an outdated forgotten document that would have any significant influence on our lives. The pages of God's Word might as well be covered with thousands of years of the dust of the earth, and yet, if one delicately brushes off the ancient words, God reveals His marvelous treasures for all of us. Are you interested in learning the Bible well? Do you want to dig into the Scriptures to understand what God is saying to you? If so, you have landed on this page for a reason.
Sacra Script has combined reliable Christian scholarship with cutting-edge technology to produce innovative Bible studies for people like you. Whether you represent a church, a small group, or just yourself, our Bible study guides help you discover the original setting and background of sacred Scripture. Learn to dig through the ancient context and language of the Bible, unlocking the true and timeless meaning of God's Word. Find your place within God's eternal plan of creation and salvation. Understand how the Bible teaches us to know and love the God of the universe through Jesus His Son.